East Asia Translation Business News
JAPANtranslation in a nutshell...
We're a multi-language vendor based in Tokyo and Osaka, Japan with 24 full-time staffpeople coordinating the work of more than 500 professional linguists on a regular basis.


When you need high-quality Japanese translation of documents from any source language - even very large documents - we will deliver.


When you need a translation vendor to fit a tight schedule, we will deliver.


When you need a Japanese vendor that handles all of its customer service in English, we're here.


JAPANtranslation's services are not cheap but reasonably priced. Count on us for clearly explained cost estimates with transparent cost calculations. Prices include scheduling, coordination, proofreading and quality assurance.
Always on time
Within JAPANtranslation's network are professional translators based in time zones around the globe. We provide services on a 24-hour basis when you need it. Our account reps are able to negotiate special arrangements for delivery first thing the next morning.

Service to other multi-language vendors
We're currently seeking to increase our affiliation with overseas agencies, especially MLVs. Contact us! If any of your clients need Japanese translation, please don't hesitate to contact us!

Company background
JAPANtranslation is a division of WIP Japan Corporation. Now in business for over twelve years, WIP is perhaps the fastest-growing translation firm in Japan. (2007 sales: $4.05M USD) The firm is well known and well regarded in the industry. For more information about WIP Japan Corporation, see the link in the footer of this page.
JAPANtranslation and WIP Japan Corporation provide the same translation service by the same team at the same prices. The only difference is that WIP customer service is provided in Japanese and JAPANtranslation customer service is provided in English. If you wish to communicate with us in English, please contact JAPANtranslation.

Feel the difference
Yes, there are a number of Japanese translation companies that are just as well known and established as our parent company, WIP Japan Corporation, but of these our firm is perhaps the only one which can show an average growth rate of over 20% year on year. We believe this is a result of the Six Assurances we guarantee to clients.



See also...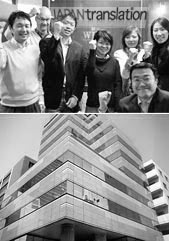 CLIENTS include...
Accenture
AdMob Google Inc
Agilent Technologies
ARM
Beyondsoft Group
Burton • Münch & Partner World Wide Writers
Canon
Canon Communications LLC
Connexion Corporate Communications
Deloitte Touche Tohmatsu
Deutsche Bank AG
Ecocert Group
ELSA Japan Inc.
Embassy of Israel, Economic Department
Ericsson Mobile AB (Sweden)
Faxcore Corporation
FIFA World Cup Office
Fujitsu
Geotechmin OOD
Heidrick & Struggles
Incisive Financial Publishing Limited
Information Architects Japan
Invest-Partners Wealth Management
ITP nv
IUCN (the International Union for Conservation of Nature)
JMC K.K.
JTB
Kirton & McConkie, PC
Language Line Services
Mitsubishi Electric
Mitsubishi Heavy Industries
myGengo, Inc.
Nacio Systems
Nasdaq Japan Planning
NEC
NETGEAR
Nippon Steel
Noon International
Nova Measuring Instruments Ltd.
NTT DoCoMo
Philips Japan
Polyphonia
Preton Ltd.
Reuters
Rohto Pharmaceutical
SH3, Inc
Sharp
Skřivánek s.r.o.
Sony
thebigword
Tokyo Stock Exchange
Toshiba
UPS Yamato Express
VanceInfo Technologies Inc.
Xtralis Pty Ltd.
Yamaha Motor Company