East Asia Translation Business News
Translation expertise by industry, academic and public sector fields

When selecting a professional translator to handle your documents, naturally it makes sense to be matched with a native with first-rate skills and general knowledge of your field of business. JAPANtranslation has a team of translators for each specialized field. From IT to legal, from industrial equipment, plants and refineries to medical/pharmaceutical, from aerospace to finance, we've got the native professionals to match you with.
Note: Be sure to ask your JAPANtranslation account rep about past work we've done in your particular field.
Japanese translation for computing, software and IT-related industries

Translation of manuals, specifications, and documentation, as well as actual software encoding localization relating to various types of computing systems and devices including hardware, peripherals, telecommunications, optical fibers, large-scale integration, mobile devices, printers, network equipment, monitors, scanners, fax equipment and copiers, telephony, digital cameras, and so on.
Japanese translation of legal/contractual documents

Translation of various contracts including licensing, joint venture agreements, articles of incorporation, corporate regulations, leases, agency contracts, employment, certifications, decisions, subpoenas, real estate registrations, notarial deeds, written oaths, legal memoranda, and the like.
Japanese translation related to patents

Patent specifications, application and examination documents, detailed statements for overseas applications, priority certificates, Japanese applications, etc.
Japanese translation of corporate and finance-related documents

Translation of documents related to banking, bonds, insurance, investments, real estate, investor news, annual reports, mid-term reporting, auditor and analyst reports, futures reporting, stock transfers, transfers of assets, joint-venture contracts, due-diligence documentation, and so on.
Japanese translation for manufacturing industries

Translation of documents related to automobiles, household appliances, construction equipment, agricultural machinery, production manuals, instruction manuals, catalogs, semiconductors, liquid crystal, optics, electrostatic recording media, digital communication equipment, electronics, automation, aircraft and marine engineering, car navigation, machine tools. turbine engines, robotics, high frequency plasma, and much more.
Japanese translation related to industrial plants and refineries

Documents related to power generation, mining, iron and steel, other metals, oil refining, chemical production, and so on.
Japanese translation for biological/chemical engineering and sciences

Translation related to biotechnology, all chemistry (organic, inorganic, high polymer, macromolecule membrane materials), medical instruments, measuring instruments, laser applications, genetic engineering, chemical (engineering, production and equipment), engineering analyses, rubber, oils, fats, organic materials, inorganic materials, polymers, plastics, paints, fibers, detergents, petrochemicals, biochemical engineering, coloring and dyes, bioactive substances, microbes, enzymes, photographic materials, inks, machine parts, and so on.
Japanese translation for the architectural and building fields

Translation of documents related to all aspects of architecture, construction, structural engineering, building specifications, damns, tunnels, bridges, roads, earth movers, reservoirs, surveying, construction materials, anti-seismic (quake-proof) structural engineering, etc.
Japanese translation for the medical and pharmaceutical fields

Translation of medical reports and manuscripts, documents related to medical instrument manufacturing, food additives, agricultural chemicals, medical and pharmaceutical documents of all types including journal articles, dissertations, clinical trial reports, scientific meeting minutes, FDA and other regulatory documents, general medicine, internal medicine, surgery, orthopedics, otolaryngology, obstetrics and gynecology, dermatology, gastroenterology, cardiology, hematology, immunology, neurosurgery, oncology, anesthesiology, radiology, optometry and ophthalmology, plastic surgery, psychiatry, forensic medicine, cytogenetics, dentistry, pharmacology, herbal medicine, pharmaceutical production, video diagnostics, genetic research and applications, MRI, ultrasound, artificial organs, and so on.
Miscellaneous fields

From environmental research to nuclear power, botany to the humanities, chances are we have the right translator for your field. Please ask your JAPANtranslation account rep whether we have a match for you!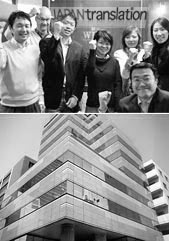 CLIENTS include...
Accenture
AdMob Google Inc
Agilent Technologies
ARM
Beyondsoft Group
Burton • Münch & Partner World Wide Writers
Canon
Canon Communications LLC
Connexion Corporate Communications
Deloitte Touche Tohmatsu
Deutsche Bank AG
Ecocert Group
ELSA Japan Inc.
Embassy of Israel, Economic Department
Ericsson Mobile AB (Sweden)
Faxcore Corporation
FIFA World Cup Office
Fujitsu
Geotechmin OOD
Heidrick & Struggles
Incisive Financial Publishing Limited
Information Architects Japan
Invest-Partners Wealth Management
ITP nv
IUCN (the International Union for Conservation of Nature)
JMC K.K.
JTB
Kirton & McConkie, PC
Language Line Services
Mitsubishi Electric
Mitsubishi Heavy Industries
myGengo, Inc.
Nacio Systems
Nasdaq Japan Planning
NEC
NETGEAR
Nippon Steel
Noon International
Nova Measuring Instruments Ltd.
NTT DoCoMo
Philips Japan
Polyphonia
Preton Ltd.
Reuters
Rohto Pharmaceutical
SH3, Inc
Sharp
Skřivánek s.r.o.
Sony
thebigword
Tokyo Stock Exchange
Toshiba
UPS Yamato Express
VanceInfo Technologies Inc.
Xtralis Pty Ltd.
Yamaha Motor Company