East Asia Translation Business News

East Asian languages
Japanese, Chinese (Mandarin, Cantonese, Shanghaiese, Taiwanese), Korean, Thai, Nepalese, Cambodian, Indonesian, Mongolian, Malay, Vietnamese, Tagalog, Burmese, Cambodian, Lao, Bengali.

European languages
English (British and American), French, German, Spanish (European and Latin American), Italian, Russian, Portuguese (European and Brazilian), Norwegian, Swedish, Danish, Finnish, Polish, Czech, Slovakian, Icelandic, Dutch, Hungarian, Albanian, Ukrainian, Belarus, Bulgarian, Macedonian, Serbian, Croatian, Slovene, Romanian, Lithuanian, Latvian, Greek, Flemish, Yiddish.

Middle-eastern, Eurasian, African and Indic languages
Arabic, Persian, Turkish, Hindi, Urdu, Dari, Hebrew, Tamil, Singhalese, Swahili, Amharic, and others.

We deliver most of the above languages in electronic format, and HTML markup is also offered. Please inquire for details.

You will deal directly with a JAPANtranslation account rep who will coordinate the work and convey your exact needs to the entire team (linguistic, design, print layout).

Please note that for some of the "minor" languages we usually have very few translators available. If there are scheduling difficulties, we may have to decline some orders.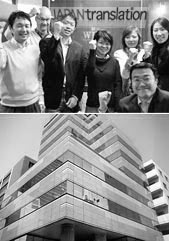 CLIENTS include...
Accenture
AdMob Google Inc
Agilent Technologies
ARM
Beyondsoft Group
Burton • Münch & Partner World Wide Writers
Canon
Canon Communications LLC
Connexion Corporate Communications
Deloitte Touche Tohmatsu
Deutsche Bank AG
Ecocert Group
ELSA Japan Inc.
Embassy of Israel, Economic Department
Ericsson Mobile AB (Sweden)
Faxcore Corporation
FIFA World Cup Office
Fujitsu
Geotechmin OOD
Heidrick & Struggles
Incisive Financial Publishing Limited
Information Architects Japan
Invest-Partners Wealth Management
ITP nv
IUCN (the International Union for Conservation of Nature)
JMC K.K.
JTB
Kirton & McConkie, PC
Language Line Services
Mitsubishi Electric
Mitsubishi Heavy Industries
myGengo, Inc.
Nacio Systems
Nasdaq Japan Planning
NEC
NETGEAR
Nippon Steel
Noon International
Nova Measuring Instruments Ltd.
NTT DoCoMo
Philips Japan
Polyphonia
Preton Ltd.
Reuters
Rohto Pharmaceutical
SH3, Inc
Sharp
Skřivánek s.r.o.
Sony
thebigword
Tokyo Stock Exchange
Toshiba
UPS Yamato Express
VanceInfo Technologies Inc.
Xtralis Pty Ltd.
Yamaha Motor Company