East Asia Translation Business News
Agency-to-agency services
Outsourcing translation to us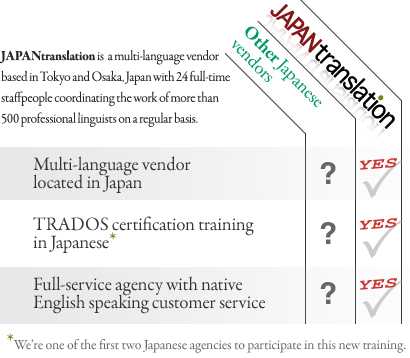 Translation agencies worldwide face similar issues daily. For example, like many MLVs, we collaborate with both individual translators and overseas agencies. Sometimes the question arises: Which jobs require which type of resource? Here's what we think:
Reasons to collaborate with an agency

With an agency in Japan supporting your own agency, you know you always have available Japan teams with members already screened and tested, appropriately matched for any job - even at short notice. When you need to be assured that quality is checked and double-checked... When you need to be assured that deliveries are made on the date specified... Go with an agency! No surprises.
On the other hand...
Reasons not to collaborate with an agency

Translation is your business. You know your business. If you own or manage a translation agency you know that agency costs can't be compared with the lower costs of freelance professionals. If you don't count your own time as a cost, then surely you can save money by hiring a large number of freelancers - Japanese translators, Japanese proofreaders, Japanese copywriters - by managing the project yourself, and managing these human resources in your own database. Sure.

There are times when you need individuals and times when you need native teams.


So...

Turn to us when you need entire, integrated teams of Western (English native) support, Japanese project managers and Japanese linguistic professionals who give precise attention to Japanese copywriting nuances, Japanese cultural contexts, Japanese turns of phrase, and so on. Consider us a Japan-based extension of your own team.
By the way...
It makes sense to buy Japanese translation from Japan, don't you think?

If you know the industry you know fully well that it's possible to buy Japanese translation cheaply from elsewhere in Asia. But...
Why would you buy Japanese translation from India or China?
Just to save a few cents per word?? Consider the quality. Yes, Japan pricing may be slightly higher but you get what you pay for. Agencies with ongoing business relationships with JAPANtranslation find our rates fully competitive thanks to our already-low agency rates along with the discounts we offer for repeat business.
Find out more.
Cost reductions by TM match percentages

75-99% matches - 50% of the full rate
100% matches & repetitions - 20% of the full rate
Other discounts

We pass savings on to clients for any factors that increase efficiency. On our discounts page you'll also find discounts for repeat business. Contact us for agency base rates. These rates are lower than our standard rates for all language pairs.
---
Also see: Our Assurances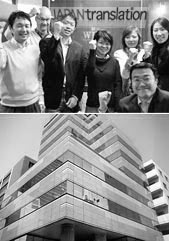 CLIENTS include...
Accenture
AdMob Google Inc
Agilent Technologies
ARM
Beyondsoft Group
Burton • Münch & Partner World Wide Writers
Canon
Canon Communications LLC
Connexion Corporate Communications
Deloitte Touche Tohmatsu
Deutsche Bank AG
Ecocert Group
ELSA Japan Inc.
Embassy of Israel, Economic Department
Ericsson Mobile AB (Sweden)
Faxcore Corporation
FIFA World Cup Office
Fujitsu
Geotechmin OOD
Heidrick & Struggles
Incisive Financial Publishing Limited
Information Architects Japan
Invest-Partners Wealth Management
ITP nv
IUCN (the International Union for Conservation of Nature)
JMC K.K.
JTB
Kirton & McConkie, PC
Language Line Services
Mitsubishi Electric
Mitsubishi Heavy Industries
myGengo, Inc.
Nacio Systems
Nasdaq Japan Planning
NEC
NETGEAR
Nippon Steel
Noon International
Nova Measuring Instruments Ltd.
NTT DoCoMo
Philips Japan
Polyphonia
Preton Ltd.
Reuters
Rohto Pharmaceutical
SH3, Inc
Sharp
Skřivánek s.r.o.
Sony
thebigword
Tokyo Stock Exchange
Toshiba
UPS Yamato Express
VanceInfo Technologies Inc.
Xtralis Pty Ltd.
Yamaha Motor Company