East Asia Translation Business News
Assurances to the customer
JAPANtranslation's

Six Assurances


Feel the difference
Yes, there are a number of Japanese translation companies that are just as well known and established as our parent company, WIP Japan Corporation, but among others in the field our firm is perhaps the only one which can show an average growth rate of over 20% year on year. We believe this is a result of the Six Assurances we guarantee to clients.
Ask yourself:
When you receive translations from your current vendor do you find yourself wasting time correcting and proofreading?
Do you sense that current vendor's staff really understand your business and/or organizational concerns? Have they developed a working relationship with you?
Do they seem to grasp the difference that careful word choices makes in your business?
Assurance 1
We tailor our approach to match your needs.


Lowering costs, speeding up delivery
JAPANtranslation staff are attentive and flexible. We have to be. Client needs vary, and the translation process varies according to those needs. Sometimes high volume translation demands that we use a faster and more cost-effective process. There are other situations where speed and accuracy are called for - as when you need translation of an important fax you just received - but high quality is not necessary. You'll need to know what the fax means and you'll need to know fast, but improving the "quality" of the translated prose would add unnecessary time and cost. Our staff will know what you need. In many such cases we help you find ways to reduce costs.

When quality matters most
Translation of a company's marketing presentation, for example, requires much more close attention to the quality of the copy than other documents. In cases where the highest quality translation matters, we make sure that detailed consultations are scheduled and well chosen native copywriters are matched with the job, perform research and actually rewrite the document afresh in close collaboration with our seasoned proofreading professionals.
Assurance 2
You can count on our processes and standards.


Our translators and reviewers, each with years of experience in the industry, follow JAPANtranslation's practice-proven standards and procedures as laid out in WIP Group's TPEG (Translation Project Evaluation Guide). Our comprehensive work-flow system ensures reliable quality that matches the needs of any given translation job. Depending on the order requirements, the process usually includes a plan of action, quality assurance steps, compilation of glossaries, team reviews, and several other steps.
Assurance 3
We will match you with the right team. Guaranteed.


A JAPANtranslation team that serves the same client two or three times develops a relationship with that client. You should find that the team develops a closer and closer working relationship with you, understands your needs and satisfies them. However, if, for any reason, you feel dissatisfied with the staff assigned to you, contact our customer service desk and we will match you with a different team.
Assurance 4
The scale of our network and the sophistication of our reservation system ensure that we will meet your projected schedule.


When you need top professionals who are well matched with your project requirements, we guarantee that we can allocate those professional resources exactly when your project requires them. (Assumes at least a few business days of lead time, of course.)
Assurance 5
Money-back guarantee.


Yes, we can boast about our record for delivering translation work of high quality worldwide on a consistent basis, but on rare occasions things can go wrong with any translation vendor, even us. First thing you will notice is that JAPANtranslation staff will always note, openly, when an error is made. That is a normal part of the process. However, on those rare occasions where you decide - because of errors or a missed deadline on our side - that you will not be able to use work that JAPANtranslation delivers we will fully refund you for the translation.
Assurance 6
We guarantee confidentiality and security.


As a matter of course, we handle all client documents with strict confidentiality. Your JAPANtranslation account rep will be happy to draw up confidentiality agreements if required.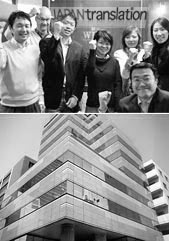 CLIENTS include...
Accenture
AdMob Google Inc
Agilent Technologies
ARM
Beyondsoft Group
Burton • Münch & Partner World Wide Writers
Canon
Canon Communications LLC
Connexion Corporate Communications
Deloitte Touche Tohmatsu
Deutsche Bank AG
Ecocert Group
ELSA Japan Inc.
Embassy of Israel, Economic Department
Ericsson Mobile AB (Sweden)
Faxcore Corporation
FIFA World Cup Office
Fujitsu
Geotechmin OOD
Heidrick & Struggles
Incisive Financial Publishing Limited
Information Architects Japan
Invest-Partners Wealth Management
ITP nv
IUCN (the International Union for Conservation of Nature)
JMC K.K.
JTB
Kirton & McConkie, PC
Language Line Services
Mitsubishi Electric
Mitsubishi Heavy Industries
myGengo, Inc.
Nacio Systems
Nasdaq Japan Planning
NEC
NETGEAR
Nippon Steel
Noon International
Nova Measuring Instruments Ltd.
NTT DoCoMo
Philips Japan
Polyphonia
Preton Ltd.
Reuters
Rohto Pharmaceutical
SH3, Inc
Sharp
Skřivánek s.r.o.
Sony
thebigword
Tokyo Stock Exchange
Toshiba
UPS Yamato Express
VanceInfo Technologies Inc.
Xtralis Pty Ltd.
Yamaha Motor Company