East Asia Translation Business News
Shin'ichiro Daikoku
Our office administrator in Osaka, Shin handles practically all orders that come through the JAPANtranslation Division. He holds a degree in comparative sociolinguistics and Japanese pedagogy from Osaka University. Mild-mannered and fast working, Shin watches sports when he has time off.
Lawrence LaFerla
Lawrence is the division head for JAPANtranslation and blogs at "Marketing on the Japanese web." The main contact for most JAPANtranslation clients, Lawrence created the division after serving three years as director of projects at WIP's earlier web localization affiliate, Webproject.jp.

After studying politics at Boston University and Swedish at Harvard University, he went on to earn his degree in organization studies from University of Massachusetts in 1994 before moving to Japan. At UMass he took particular interest in languages and Eastern philosophies. Prior to that he was a minor "rock star."
If you have any questions about JAPANtranslation, you can contact Lawrence directly here.
Etsuki Kita
A former lecturer on English conversation study in Japan, Etsuki has studied in Scotland and Ireland. She believes in steady effort when pursuing endeavors that matter. She also happens to be a kendo master!
Keiji Takagi
If you prefer to contact JAPANtranslation in French, Keiji will probably be the one who responds. He studied at The University Paris 4 Sorbonne and has lectured at Alliance Française, Osaka. In his free time, Keiji enjoys taking long strolls and practicing on the cello.
Manami Kyakuno
Call her Bonnie! She studied abroad in America during high school through an AFS Intercultural Program. With a TOEIC score of 940, she has moved on to study Korean recently and makes frequent trips to Korea. Bonnie is one of the most highly skilled translation project coordinators in the company. Her high energy and fast work have a positive effect that is felt throughout the Osaka office.
Tokyo office
Teruhiko Ueda, WIP Group Representative
http://japan.wipgroup.com/english/.../greeting-wip-group.html
Yoshio Fukushima, WIP Japan Representative
http://japan.wipgroup.com/english/.../about-wip-japan.html
Hiroshi Hidaka
Co-founder of WIP Japan Corporation, Hiroshi loves English, writing, copywriting and Japanese history. He grew up in Shizuoka Prefecture, and if you meet him you'll surely find that he is one of the most cheerful men you will ever have met.
David Stormer
David is our in-house translation quality control expert, with a particular interest in pharmaceutical- and biochemistry-related. He came to Japan from New Zealand many many years ago. He's fluent in Japanese having started his Japan stay with three years on Sado Island. David is into cycling, music (especially dance music), and Japanese calligraphy!
Naomi Murakami
As senior translation coordinator, Naomi Murakami has been following a multicultural path since her childhood. Born in Osaka, schooled in the Philippines and Singapore, Naomi has a lifetime of experience in crossing linguistic borders. She has worked in a number of service fields where English is required, mainly as a translator and business meeting interpreter. With her enthusiasm for promoting understanding across cultures and with her wealth of experience, Naomi is able to rapidly establish rapport with the customer and come up with language solutions. On top of all that, she also serves as the administrative backbone of our Tokyo office.
Fumi Kusuyama
Fumi started using translation software when she studied in a graduate program in applied translation studies at Leeds University, UK. A serious, good-natured person, Fumi bakes bread and plays tennis in her free time.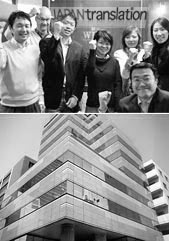 CLIENTS include...
Accenture
AdMob Google Inc
Agilent Technologies
ARM
Beyondsoft Group
Burton • Münch & Partner World Wide Writers
Canon
Canon Communications LLC
Connexion Corporate Communications
Deloitte Touche Tohmatsu
Deutsche Bank AG
Ecocert Group
ELSA Japan Inc.
Embassy of Israel, Economic Department
Ericsson Mobile AB (Sweden)
Faxcore Corporation
FIFA World Cup Office
Fujitsu
Geotechmin OOD
Heidrick & Struggles
Incisive Financial Publishing Limited
Information Architects Japan
Invest-Partners Wealth Management
ITP nv
IUCN (the International Union for Conservation of Nature)
JMC K.K.
JTB
Kirton & McConkie, PC
Language Line Services
Mitsubishi Electric
Mitsubishi Heavy Industries
myGengo, Inc.
Nacio Systems
Nasdaq Japan Planning
NEC
NETGEAR
Nippon Steel
Noon International
Nova Measuring Instruments Ltd.
NTT DoCoMo
Philips Japan
Polyphonia
Preton Ltd.
Reuters
Rohto Pharmaceutical
SH3, Inc
Sharp
Skřivánek s.r.o.
Sony
thebigword
Tokyo Stock Exchange
Toshiba
UPS Yamato Express
VanceInfo Technologies Inc.
Xtralis Pty Ltd.
Yamaha Motor Company