East Asia Translation Business News
How to order a document translation
Translation workflow
For starters, feel free to print out our translation workflow diagram.



Free trial
When you are comparing vendors for the first time it's natural to feel concerned that the results may fall short of your expectations. We understand that. So we offer trial translations and detailed consultation up front.
>> Read more
Translation prices
You can find all of our prices here. Each rate is available in Yen, and you can convert each rate to today's equivalent in Dollars, Euros or Pounds.

Translation discounts
Whenever we're able to reduce costs, we pass that on to the customer as a discount. See our translation discounts page.

Need a translation estimate, like... now?
The most efficient way to get an accurate estimate is by filling in as much detail as you can on our estimate form. We'll respond in most cases within an hour during normal working hours, Japan time (GMT+9).

No time to fill in the long form?
Feel free to phone us or email us. A JAPANtranslation rep will help you sort out the costs and preparation.



Request a translation quote...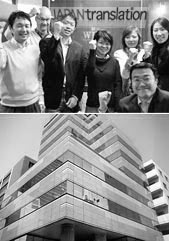 CLIENTS include...
Accenture
AdMob Google Inc
Agilent Technologies
ARM
Beyondsoft Group
Burton • Münch & Partner World Wide Writers
Canon
Canon Communications LLC
Connexion Corporate Communications
Deloitte Touche Tohmatsu
Deutsche Bank AG
Ecocert Group
ELSA Japan Inc.
Embassy of Israel, Economic Department
Ericsson Mobile AB (Sweden)
Faxcore Corporation
FIFA World Cup Office
Fujitsu
Geotechmin OOD
Heidrick & Struggles
Incisive Financial Publishing Limited
Information Architects Japan
Invest-Partners Wealth Management
ITP nv
IUCN (the International Union for Conservation of Nature)
JMC K.K.
JTB
Kirton & McConkie, PC
Language Line Services
Mitsubishi Electric
Mitsubishi Heavy Industries
myGengo, Inc.
Nacio Systems
Nasdaq Japan Planning
NEC
NETGEAR
Nippon Steel
Noon International
Nova Measuring Instruments Ltd.
NTT DoCoMo
Philips Japan
Polyphonia
Preton Ltd.
Reuters
Rohto Pharmaceutical
SH3, Inc
Sharp
Skřivánek s.r.o.
Sony
thebigword
Tokyo Stock Exchange
Toshiba
UPS Yamato Express
VanceInfo Technologies Inc.
Xtralis Pty Ltd.
Yamaha Motor Company